Testimonials
When choosing a real estate professional, get to know their history!
Below, you'll find information that will help you get to know me better - from awards and credentials I've achieved, to references from past clients.
I consider the satisfaction of my clients to be my greatest achievement, and take pride in my high volume of repeat business and referrals.
Call me today - I'd love to add you to this growing list!
Happy clients
Benny Monno
For the last 4 years I've really struggled with finding someone that genuinely cared about finding me the right home until I met her ! From start to finish she was super professional & kind and you could tell she really wanted to help me . She payed attention to specific details on things I really wanted out of my future home & even dedicated a lot of her personal time in finding the perfect house for me . Overall I had an amazing experience with her and would recommend her along with her knowledge and experience for anyone looking to purchase real estate.
Thanks for all of your help Sepy!!!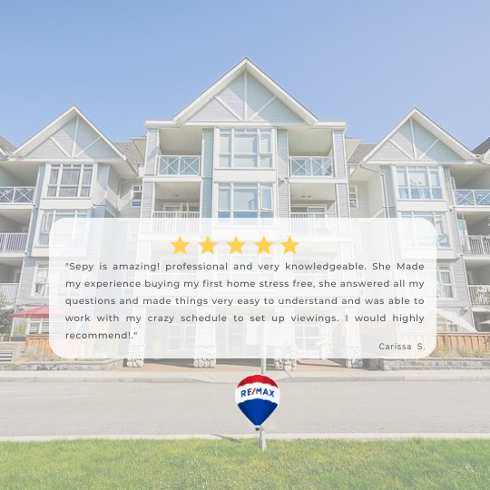 Carissa
Cassandra Cruz
Extraordinary! Working with Sepy was such a great experience she made the process of buying a home completely seamless. I've worked with realtors in the past that were very passive with their clients. But Sepy understood my timeline, she was proactive with finding and viewing listings as soon as possible.
I felt empowered to make decisions with her extensive market insights and knowledge.

Sepy was able to secure my offer in a very competitive market and region within the day of my viewing. I couldn't have asked for a better partnership and will most definitely be working with her in the future.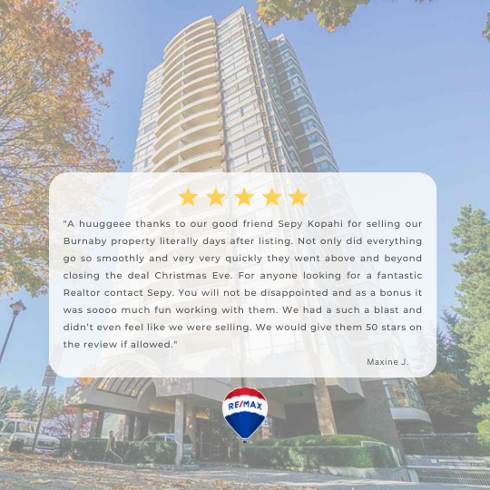 Maxine J.
Natnael Habteghergsh
Thank you so much for your help with buying our home. You made the process simple and easy to understand for us, and we appreciated your patience and expertise. Your insight was extremely valuable to us and I don't think we could have done this without you. You are such a wonderful women with an open mind.
Shhruti Nair
When I immigrated from India and decided to buy a house. I was thrilled! And then terrified by real estate horror stories: bidding wars, prices skyrocketing, and properties selling for way above asking price. How could I possibly figure this out, as non-local first-time homebuyers?
And then I met Sepy. She is knowledgeable, approachable, professional, endlessly patient, and incredibly generous with her time (including mornings, evenings, and weekends over the course of several months). She answered every question and explained every form and every part of the process clearly and thoroughly. Buying a home in this market is challenging, but working with Sepy made it as painless and straightforward as possible.
I really appreciate the hard work she is putting in making her clients achieve what they want.
She exceeded my expectations and I highly recommend her!!
Jagdeep Kaur
Sepy is a kind hearted person and it reflects in her professionalism. She helped me sell my old place and buy a new one. She went out of her way to check up on me even after I moved to my new place.
I definitely recommend Sepy to anyone who is looking for a real estate agent who works for her clients with a full heart.
Harsimran Kohli Duggal
Sepy helped us stage our home so beautifully that we ended up having multiple offers in less than a few days!! Not only did she sell our place but she also helped us find our dream home!!! Both transactions were super smooth and we could not be happier that we chose her as our realtor. Would highly recommend her to anyone looking to sell or buy real estate. This is such a happy time in our lives and you definitely had a big part in making it all happen!!!
Piyus Agrawal
Sepy is my family's go to realtor and we have recommended her to all our family and friends. I would happily recommend Sepy to anyone else and guarantee they will be happy with the end result!
Samuel Oteng
Sepy is one of the most humble people I have met in my life. She showed me so many different places as I had very specifics wants but a tight budget. I'm proud to say I got a beautiful home because she took the time, and didn't use pressure tactics with me!
Sepy is amazing I will be sure to return in the future!
Anshul Bhandari
Sepy helped us sell our place and also buy one, right after. And all I have to say is that this is how experience with a realtor should be like. She spent time to understand our expectations and requirements and ensured to give us a very valuable expert opinion on property value, strategy and staging; to sell our place. Her research and efforts that she had put into her task at hand were evident from our first meeting. And results reflected that, when I had multiple offers within 3 days of listing the property (All of them were above asking price).
After the sale went through, Sepy helped us secure a purchase in another multiple offer situation and ensured that the entire transaction went smooth and that our new home checked all boxes we had for expectations. Offer was accepted with 3 days of first viewing the place. Sepy did a lot of back and forth for us, with the realtors representing the seller and was very transparent throughout the process.
I would strongly recommend to choose her as your realtor if you are planning on buying or selling your property and you would not be disappointed.
Thank you once again, Sepy. Keep up the amazing work!
Sush Raj
Sincere and professional, Sepy is a joy to work with.
Her willingness to work the long hours which go beyond the normal workday makes her accessible, while her attention to detail makes her reliable.
Azadeh Jazini
Sepy helped me in selling my house and she has done a wonderful job in advertising and selling .....
She's very active and professional !
Will recommend 100 percent....
Selina Su
Sepy did an amazing job helping me buy my first home. Being a first time home buyer can be a scary experience because you do not know what to expect and what to do. Sepy guided me through, answered all my questions and went with me to all the open houses that I was interested in. Thanks Sepy, I love my new home!
Venus Tavakoli
Sepy was super patient in answering all my questions and walking me through every step when listing my house for sale. She helped me stage my house and make it look beautiful and as a result we had multiple offers and we happily took a very good price for our house. The result exceeded our expectations. We are forever thankful to you Sepy!
Justyna Lit
Sepy sold my townhouse in Burnaby and I could not be happier! Not only did she manage to sell my home in one weekend and over asking price, she was also extremely knowledgeable, patient, and responsive to my many questions!
She did a great job marketing my property. I have never seen so many people at an open house!
She is a true professional that puts her clients' best interests first.
Zoey Haramboure
Sepy was a joy to deal with. She was professional and kind and really paid attention to all my needs I had when looking for a new place!! I can't wait to buy my next home through her and I would highly recommend her to anyone in the house market. Thank you for all your hard work in finding my dream home!!
Akash Duggal
Sepy was very helpful in selling our home and then finding us a new home. You know your realtor is doing right job when she sells your home for above asking price and gets you home at below asking price & that realtor was sepy for us.
Sepy was outstanding in her professionalism, knowledge of the market, and helpfulness in guiding us through the whole process of selling our house --- a home we loved. The initial survey of recent sales in the neighborhood that Sepy presented; allowed us to set realistic price and to move on from there. She got us great value for our home which was even above our asking price.
Sepy was very supportive in finding us new home as well. Her knowledge of the current market and similar property in the area was exceptional. Sepy's guidance in working with multiple offers was excellent and she got our offer accepted very easily in very competitive market like today. All in all, we are very satisfied and excited to move into our new home now. We would certainly utilize Sepy in future real estate transactions and would highly recommend her to other clients.